HSE Engineer – UAE National: Ensuring Safety and Compliance
HSE Engineer : In today's dynamic world, health, safety, and environment (HSE) concerns are paramount in all industries. The United Arab Emirates (UAE) recognizes the significance of these aspects and, as a result, actively promotes the role of HSE engineers, particularly among its own nationals. This article delves into the essential responsibilities and qualifications of an HSE engineer in the UAE, emphasizing the importance of this profession in maintaining a secure and sustainable work environment.
Introduction
Health, safety, and environment (HSE) engineering is a critical field in the UAE, aimed at ensuring the well-being of employees and the preservation of the environment. As the country experiences rapid industrialization and infrastructure development, the role of HSE engineers has never been more crucial.
The Role of an HSE Engineer
HSE engineers play a pivotal role in assessing, mitigating, and preventing risks within various industries. Their primary objective is to safeguard human lives, assets, and the environment by promoting compliance with safety regulations and best practices.
Qualifications and Education
To become an HSE engineer in the UAE, one typically needs a bachelor's degree in engineering or a related field. Many aspiring professionals opt for degrees in environmental engineering, chemical engineering, or occupational health and safety.
Certifications
Certifications are highly regarded in the field of HSE engineering. In the UAE, professionals often pursue certifications such as the Certified Safety Professional (CSP) or the NEBOSH International General Certificate to enhance their qualifications and employability.
Skills Required
Successful HSE engineers possess a wide range of skills, including risk assessment, problem-solving, communication, and leadership. They must be adept at analyzing data and implementing strategies to mitigate potential hazards.
Responsibilities
HSE engineers are responsible for conducting safety audits, developing safety procedures, and training employees on safety protocols. They also investigate accidents, compile reports, and make recommendations for improvements.
Importance of HSE Engineers in the UAE
In the UAE, where industries like construction, oil and gas, and manufacturing thrive, HSE engineers are instrumental in ensuring that operations meet international safety standards. Their work helps maintain a positive image of the UAE as a safe and sustainable business destination.
Challenges and Opportunities
While the role of an HSE engineer is rewarding, it comes with challenges. These professionals must navigate complex regulatory environments and constantly adapt to evolving industry standards. However, this also presents opportunities for career growth and specialization.
Salary Expectations
HSE engineers in the UAE enjoy competitive salaries due to the critical nature of their work. Salaries can vary depending on experience, qualifications, and the industry they work in but generally range from AED 120,000 to AED 300,000 per year.
Career Growth
With experience and additional certifications, HSE engineers can advance their careers. They may take on managerial roles, become HSE consultants, or specialize in niche areas such as environmental impact assessments.
Companies Hiring HSE Engineers in the UAE
Several reputable companies in the UAE actively seek HSE engineers to enhance their safety measures. Some notable employers include ADNOC, Dubai Airports, and Emaar Properties.
How to Prepare for an HSE Engineering Career
Aspiring HSE engineers should focus on acquiring the necessary education, certifications, and practical experience. Networking within the industry and staying updated on safety trends and regulations is also crucial.
Conclusion
The role of an HSE engineer in the UAE is of paramount importance in maintaining the safety of individuals and the environment. These professionals are instrumental in ensuring that the nation's industries operate responsibly and sustainably.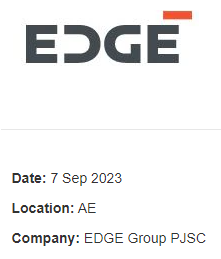 ADNOC HQ: HSE Engineer Job Vacancy
Safety Officer Job Vacancy in Saudi Arabia: Urgent Requirement
HSE Officer and HSE Engineer Jobs at ADNOC Project: Urgent Requirement
Compliance Safety and Health Officer Job in United States: Urgent Requirement
Apply for the jobs : https://careers.edgegroup.ae/job/HSE-Engineer-UAE-National/731122722/?
Safety Officer Job in United States: Salary $51,616 – $90,328 Per Year
FAQs
1. What does HSE stand for? HSE stands for Health, Safety, and Environment.
2. Are HSE engineers in demand in the UAE? Yes, HSE engineers are in high demand in the UAE due to the country's focus on safety and sustainability.
3. Can I become an HSE engineer with a degree in a related field? Yes, you can, but it's advisable to pursue relevant certifications to enhance your qualifications.
4. What is the average salary of an HSE engineer in the UAE? The average salary ranges from AED 120,000 to AED 300,000 per year, depending on factors like experience and industry.
5. How can I stay updated on safety regulations in the UAE? You can stay updated by joining professional associations, attending seminars, and following government regulatory websites.