Apprenticeship for Fire and Safety in ONGC
Introduction
Apprenticeship for Fire and Safety in ONGC : In the dynamic world of oil and gas exploration, safety is paramount. The Oil and Natural Gas Corporation (ONGC), a pioneer in this industry, places immense importance on fire safety. To ensure the highest levels of safety, ONGC offers apprenticeships for individuals interested in pursuing a career in fire and safety. This article will delve into the details of apprenticeships in fire and safety at ONGC, covering everything from the application process to the benefits and career prospects.
Why Fire and Safety?
Before we jump into the specifics of ONGC's apprenticeship program, it's essential to understand the critical role fire and safety play in the oil and gas industry.
Ensuring Operational Safety
Fire hazards are ever-present in the oil and gas sector. Apprenticeships in fire and safety are essential to maintain the safety of both personnel and assets.
Regulatory Compliance
The industry is heavily regulated, and adherence to safety standards is non-negotiable. Fire and safety experts play a pivotal role in ensuring ONGC remains compliant with these regulations.
ONGC's Apprenticeship Program
Now that we've established the significance of fire and safety let's dive into ONGC's comprehensive apprenticeship program.
Eligibility Criteria
Minimum Educational Qualification: Candidates must have a high school diploma or equivalent.
Age Limit: Applicants should be between 18 and 24 years old.
Physical Fitness: Given the physically demanding nature of the job, candidates must meet certain physical fitness criteria.
Application Process
Applying for an apprenticeship at ONGC is a straightforward process:
Visit the ONGC official website.
Navigate to the careers section and find the apprenticeship program.
Fill out the application form with accurate details.
Upload the required documents, including educational certificates and identity proof.
Submit the application.
Selection Procedure
ONGC follows a rigorous selection procedure:
Screening of Applications: All applications are thoroughly screened to ensure they meet the eligibility criteria.
Written Examination: Qualified candidates will be invited to take a written examination assessing their knowledge of fire and safety.
Interview: Shortlisted candidates from the written examination will face a panel interview.
Medical Examination: A comprehensive medical examination is conducted to assess physical fitness.
Training and Skill Development
Once selected, apprentices undergo intensive training in various aspects of fire safety:
Firefighting Techniques
Hazard Identification
Emergency Response
Safety Regulations and Compliance
Benefits of ONGC's Apprenticeship
Hands-on Experience
Apprentices get hands-on experience working in real-world situations, preparing them for a successful career in fire and safety.
Stipend
ONGC provides a monthly stipend to apprentices, ensuring financial support during the training period.
Job Security
Upon successful completion of the apprenticeship, ONGC often offers permanent positions to apprentices, ensuring job security.
Career Prospects
After completing the apprenticeship, individuals can pursue various career paths:
Safety Officer
Fire Inspector
Emergency Response Coordinator
Risk Assessment Specialist
Conclusion
ONGC's apprenticeship program for fire and safety offers a fantastic opportunity for aspiring individuals to kickstart their careers in a crucial field. The training, benefits, and career prospects make it an attractive choice for those who are passionate about safety and want to contribute to the thriving oil and gas industry.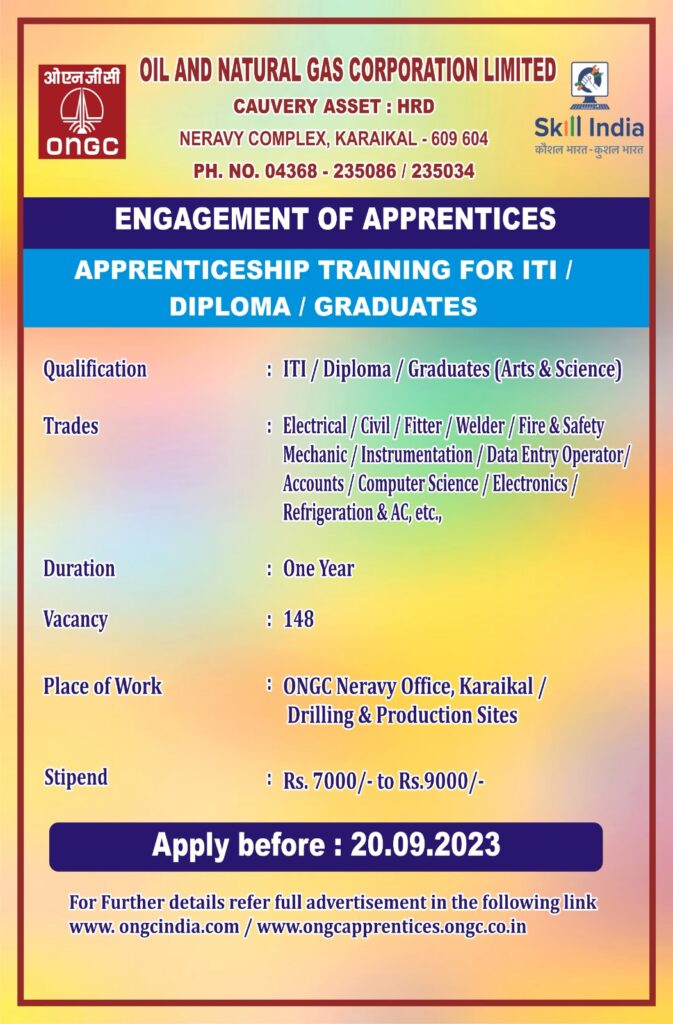 Junior HSE Coordinator Job in Canada: Urgent Requirement
HSE Officer Job Vacancy in Dubai: Salary AED 8,000.00
ADNOC HQ: HSE Engineer Job Vacancy
For More Information : https://ongcindia.com/
For More Information : https://ongcapprentices.ongc.co.in/ongcapp/
Register : https://nats.education.gov.in/
Register : https://www.apprenticeshipindia.gov.in/
Safety Officer Job Vacancy in Saudi Arabia: Urgent Requirement
FAQs
1. How long does the apprenticeship program at ONGC last?
The duration of the apprenticeship program varies, but it typically lasts for one to two years.
2. Is there an age limit for applying to the apprenticeship program?
Yes, candidates must be between 18 and 24 years old to be eligible.
3. What is the stipend amount provided during the apprenticeship?
The stipend amount varies, but ONGC provides a competitive stipend to apprentices.
4. Are there any physical fitness requirements?
Yes, candidates need to meet specific physical fitness criteria to qualify for the program.
5. Can I apply for the apprenticeship program if I have a degree in a related field?
Yes, candidates with related degrees are welcome to apply, but they must meet all other eligibility criteria.