HSE Engineer Job Vacancy: A Lucrative Opportunity in Occupational Safety
Introduction
HSE Engineer Job Vacancy : In the realm of modern industries and workplaces, the significance of Health, Safety, and Environment (HSE) practices cannot be overstated. Companies across diverse sectors are actively seeking qualified HSE Engineers to ensure the well-being of their employees and the environment. This article delves into the exciting world of HSE engineering job vacancies, shedding light on the responsibilities, qualifications, and rewards associated with this vital role.
Understanding the Role of an HSE Engineer
In today's rapidly evolving work landscape, HSE Engineers play a pivotal role in ensuring that workplaces adhere to the highest standards of safety and environmental responsibility. They are responsible for developing, implementing, and monitoring comprehensive safety programs that safeguard employees, equipment, and the environment.
Qualifications and Educational Background
To become a proficient HSE Engineer, a bachelor's degree in engineering, occupational safety, environmental science, or a related field is typically required. Additionally, certifications such as Certified Safety Professional (CSP) or Occupational Health and Safety Technologist (OHST) can greatly enhance job prospects.
Key Responsibilities and Duties
HSE Engineers shoulder a range of responsibilities, including risk assessments, safety audits, incident investigations, and the design and implementation of safety protocols. They collaborate with various departments to ensure a safe and compliant work environment.
Importance of HSE in Different Industries
HSE Engineers find employment across diverse sectors, including construction, manufacturing, healthcare, and energy. Their presence is crucial in preventing accidents, reducing liabilities, and maintaining a positive corporate image.
Skills and Competencies Required
Effective communication, attention to detail, problem-solving prowess, and a deep understanding of regulatory frameworks are essential skills for HSE Engineers. They must also stay updated on industry best practices.
Career Advancement Opportunities
HSE Engineers often progress into leadership roles, such as HSE Managers or Directors. Their expertise is invaluable in shaping company policies and strategies related to safety and sustainability.
Challenges Faced by HSE Engineers
Balancing the demands of safety, compliance, and operational efficiency can be challenging. HSE Engineers must find innovative solutions that prioritize both employee well-being and business objectives.
Industry-Specific Regulations and Compliance
Different industries have unique safety regulations. HSE Engineers must stay informed about these regulations to ensure that their organization remains compliant and avoids legal complications.
Technological Advancements in HSE
Technology, including IoT devices and data analytics, is transforming the HSE landscape. Engineers now use real-time data to identify potential hazards and streamline safety protocols.
How to Stand Out During the Application Process
Crafting a compelling resume, emphasizing relevant skills and experiences, and tailoring applications to each position can make candidates stand out in a competitive job market.
Interview Preparation Tips for HSE Engineer Positions
Thoroughly researching the company, practicing responses to common interview questions, and showcasing problem-solving abilities can help candidates excel in interviews.
Negotiating Compensation Packages
Understanding industry salary standards, showcasing one's value through accomplishments, and effectively negotiating can result in favorable compensation packages.
The Future of HSE Engineering
As industries continue to prioritize safety and sustainability, the demand for skilled HSE Engineers is projected to rise. This presents an optimistic outlook for aspiring professionals in this field.
Global Trends in Occupational Safety
Occupational safety is becoming a global concern, leading to increased cooperation among nations to establish international safety standards and practices.
HSE Engineer Job Vacancy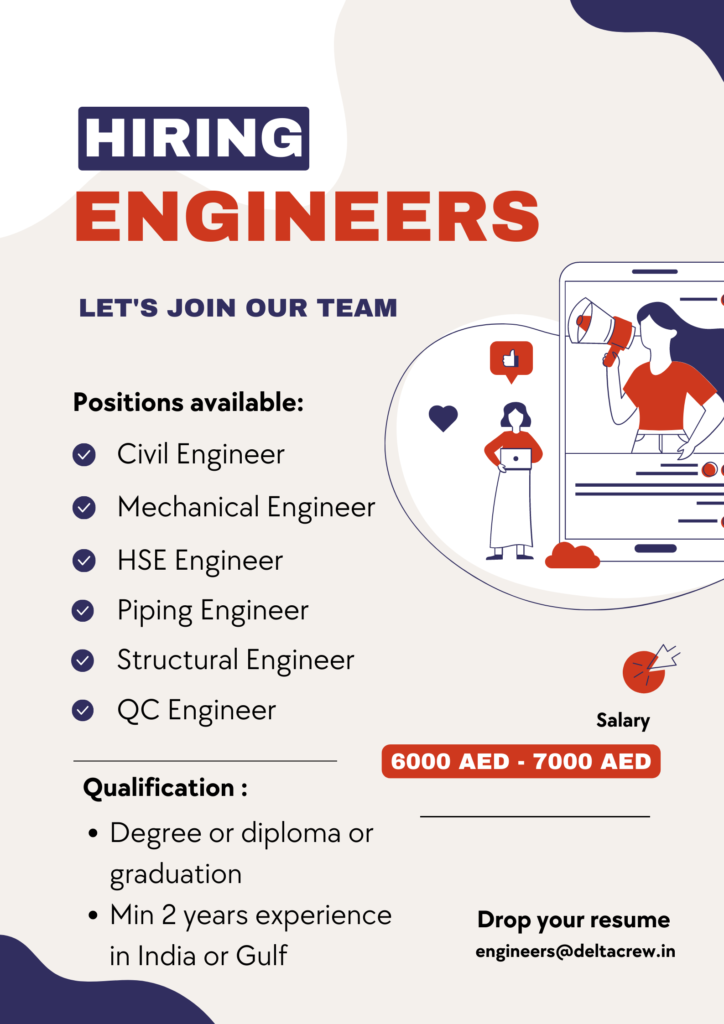 Urgent Requirement: HSE Engineer Jobs in ADNOC Company
Fresher/Experience HSE Officer and HSE Engineer Jobs in UAE :Urgent Requirement
For more information visit : www.deltacrew.in 
Urgent Requirement : HSE Officer and HSE Supervisor Jobs in UAE – Fresher/Experience
Top 10 Secrets to Find Jobs in Dubai
Estimated Expenses for a 3-Month Stay in Dubai
Conclusion
In conclusion, a career as an HSE Engineer offers a dynamic and rewarding path for those passionate about safeguarding lives and the environment. With the right qualifications, skills, and determination, individuals can contribute significantly to safer workplaces across various industries.
FAQs
Q1: How do I become an HSE Engineer? A: To become an HSE Engineer, you typically need a relevant bachelor's degree and possibly certifications like CSP or OHST.
Q2: What industries hire HSE Engineers? A: HSE Engineers are hired in industries such as construction, manufacturing, healthcare, and energy.
Q3: What are the key challenges of an HSE Engineer? A: HSE Engineers must balance safety and compliance with operational efficiency, finding innovative solutions to ensure both.
Q4: How does technology impact HSE Engineering? A: Technology, including IoT and data analytics, allows HSE Engineers to use real-time data for hazard identification and safety improvement.
Q5: What is the future outlook for HSE Engineers? A: The demand for skilled HSE Engineers is expected to grow as industries focus more on safety and sustainability.